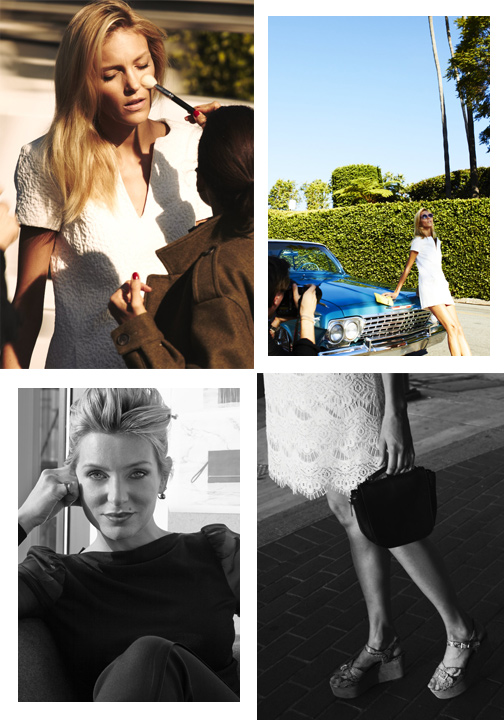 Kurt Geiger Creative Director Rebecca Farrar-Hockley & Erik Torstensson - the creative duo behind the Kurt Geiger campaigns sit down with us and share stories from their first impressions of each other, to how they find their inspiration.


First impressions of each other?

Rebecca Farrar-Hockley: To be honest, I can't remember it was so long ago – 12 years! But over the years we've found each other, I think, very easy to work with – we tend not to stress, trust one another implicitly and 95% of the time completely agree. Erik understands my brand as well as I do. There's immense value in the depth of the relationship.

Erik Torstensson: It's so long ago so it's hard to remember dates, but what became a pivotal moment in our long standing relationship, was when I ran into Rebecca at a store opening for YSL in London. On the back of that we got a meeting and Kurt Geiger became the first client of our newly formed agency Saturday. Rebecca was the same then as she is now – fun, straight-forward and brave. I have such respect for what she has achieved.


Most memorable moment while on a shoot together?

RFH: Editing a campaign at the end of shooting at 2am in the Chateau Marmont!

ET: We did a shoot over 2 days in L.A with Anja Rubik. The timeline was, as always, very tight so Rebecca and I had to work through the night on the edit in a suite at the Chateau Marmont (over bottles of wine and great conversation).


Any disasters?

RFH: Not yet, although we came close once with a live parrot!

ET: Nothing too bad! The thing that is great about working with Rebecca is that she can make quick decisions and act to the situations if they arise. We have almost been rained away in Epping Forest, had flying parrots and super models with broken feet, but we always come out on top!


Favourite Kurt Geiger Campaign?

RFH: That is like asking to pick your favourite child – impossible! For different reasons – my favourites have been; SS11 "birds of paradise", 2012 "California dreaming", current AW15 "strength and sensuality" and the SS16 campaign we are working on now – you always love your newest idea.

ET: There are so many. Rebecca was the first one to give me a chance to actually shoot the campaign as well as art directing them. We kind of grew up together. I really loved the first campaign we did with Lara Stone in SS15. The one in L.A. was great too, we have done so many.


How do you find your inspiration each season?

RFH: The product always leads me. When we start designing the collections for the new season we have a clear direction and mood for the brands – by the time we conclude that development I normally have a pretty clear idea of what I want to try and communicate.

ET: It comes from Rebecca, she has an idea of where she wants to take it. We always meet in Paris during fashion week and she shows me the product and her initial thoughts and references. We then develop it further together, define the woman, the direction, the set etc. It's a great process, very fluid and organic which is rare today – we have developed a fantastic short hand!