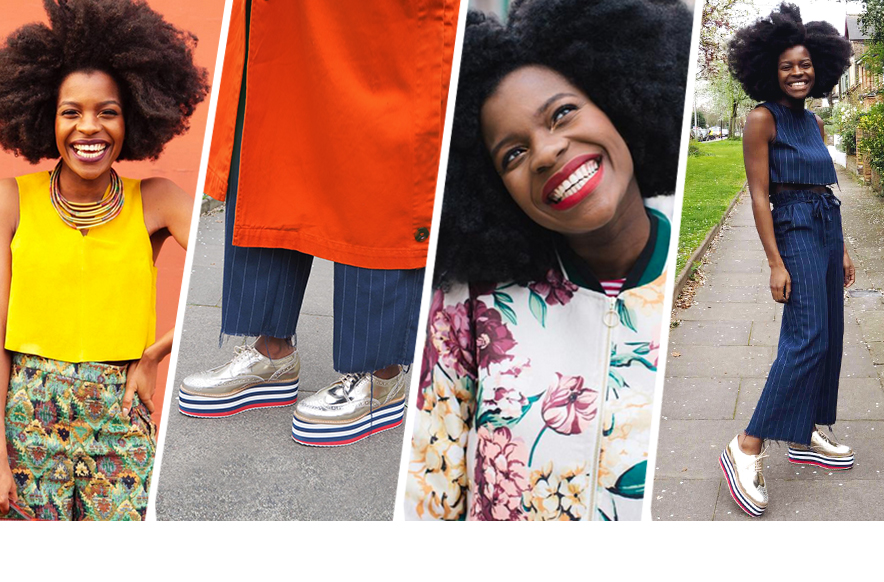 Meet Freddie Harrel, the fashion blogger and entrepreneur whose look-at-me style and killer smile has us cooing over her Instagram account daily. And if there were ever a person to give us inspiration when it comes to wearing statement shoes (and, well, statement anything really), it's Freddie; with her unique take on print and colour, she has us reaching for the metallic brogues and embroidered jeans. We caught up with her to find out more...

Hi Freddie! Welcome to Kurt Geiger. Let's start with your personal style - can you sum up your look in one sentence?
I always say the same thing. `It's a fashion burrito': a mix of a lot of things all wrapped into one!

We're obsessed with your Instagram account - you always look so happy! Is it important to you to make fashion fun?
Well I wouldn't be able to be serious about it. I see it as way to express myself, to explore myself, it has to be fun. I've never been good at taking it too seriously. I'm a straight goof!

Do you think some people take fashion too seriously?
Some probably do but I'm not one to diss what others do. Whatever works for you! But when it comes to people who take it seriously in the sense that it stops them from dressing the way they want, I'd definitely advise them to stop and have fun with their style.
We've noticed that you seem to love wearing colourful shoes; do you think it's easier to be brave with your footwear than it is with the rest of your outfit?
Not particularly! I don't even understand how wearing colours is deemed brave – colours bring so much life to an outfit and genuinely make me happier! There's nothing scary about wearing colours.

You're wearing Kurt Geiger's 'Klash' platform brogues today. Tell us what drew you to these shoes in particular.
They're bonkers, aren't they?! I knew we'd be a perfect match! I love a statement shoe, these brogues do all the talking, you don't even need to think too much about the rest of your outfit!

What would be your three top ways of styling up your brogues? Can we wear a statement outfit with statement shoes?
My first outfit would be with mom jeans and either a white crop top or a white blouse tucked in. Finished off with a blazer! Second, I'd go for a printed mini skirt and an oversized jumper thrown on top. Finally, a pinstriped co-ord and a burnt orange coat (pictured). As for the look-at-me outfit and the look-at-me shoes, you might as well!

Do you have any advice for someone who would like to wear more colour but is stuck in a navy rut?
Just don't overthink it!! That's my only advice. If you love a colour, just wear it! I love colours but until recently there were still some I would stay away from. I went on a shoot and the stylist had found these neon pink and green clothes. I thought OMG that's never going to work but I LOVED it! So my advice is to always give new things a go and to not think of what others will think.

What are your favourite shoe colours...and why?
I love a red shoe; it's such a statement and they look amazing with jeans! I love printed shoes and all colours really...


Freddie Harrel is a fashion blogger and founder of Big Hair No Care. Read more at freddieharrel.com or follow her inspirational Instagram account @freddieharrel


Shop Lace ups and Brogues